With the
New travel
experience
in
the Metaverse,
Let's enjoy the world
with ANA GranWhale
Follow us on Facebook


Presenting a new travel experience
that connects real and virtual worlds
ANA GranWhale is a metaverse travel service that allows you to safely and comfortably enjoy your trip by using VR technology to recreate amazing destinations and cultures around the world.

In "ANA GranWhale", you can transcend time and space with our V-TRIP (travel theme park space) and Sky Mall (shopping space) services.

You can easily enjoy traveling and shopping as an avatar on your smartphone.
Board the GranWhale and take off into the future!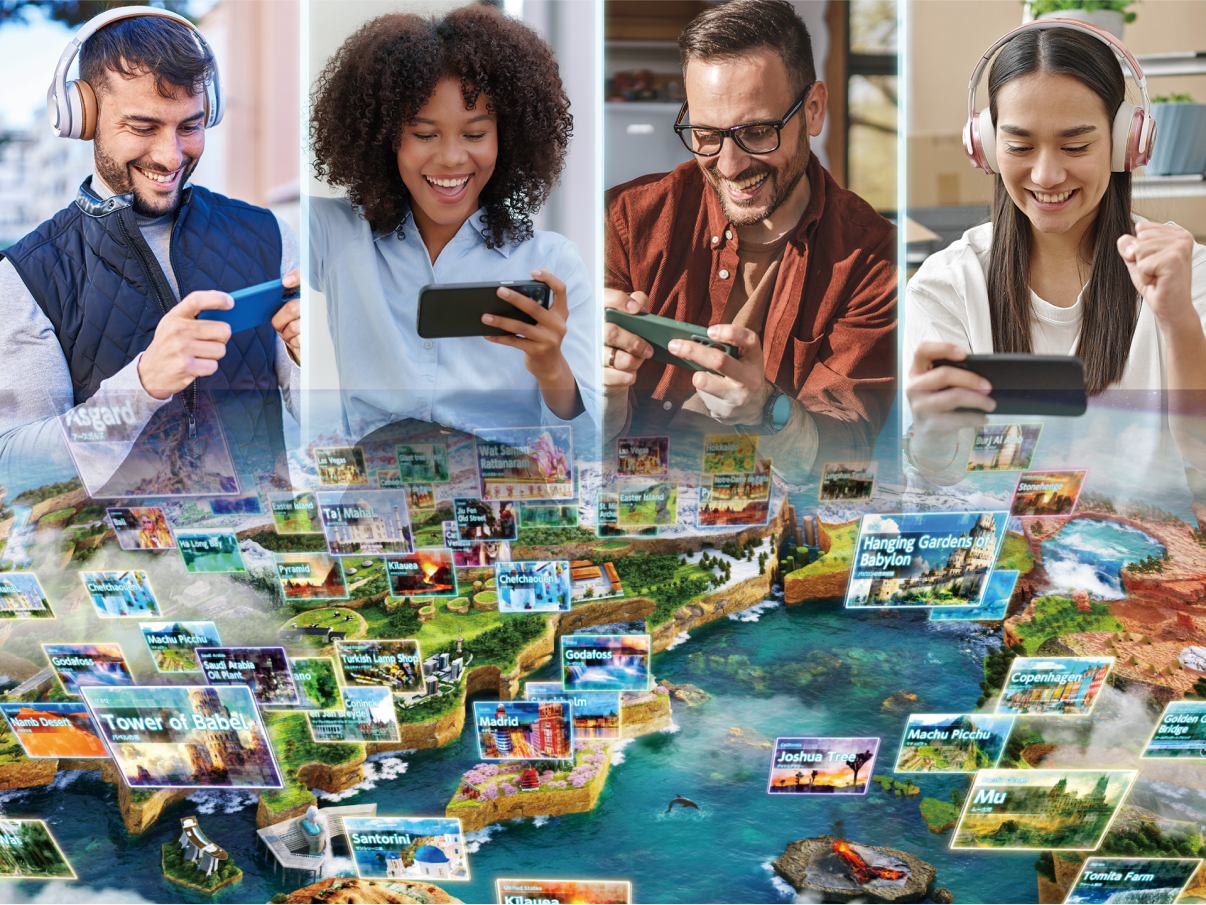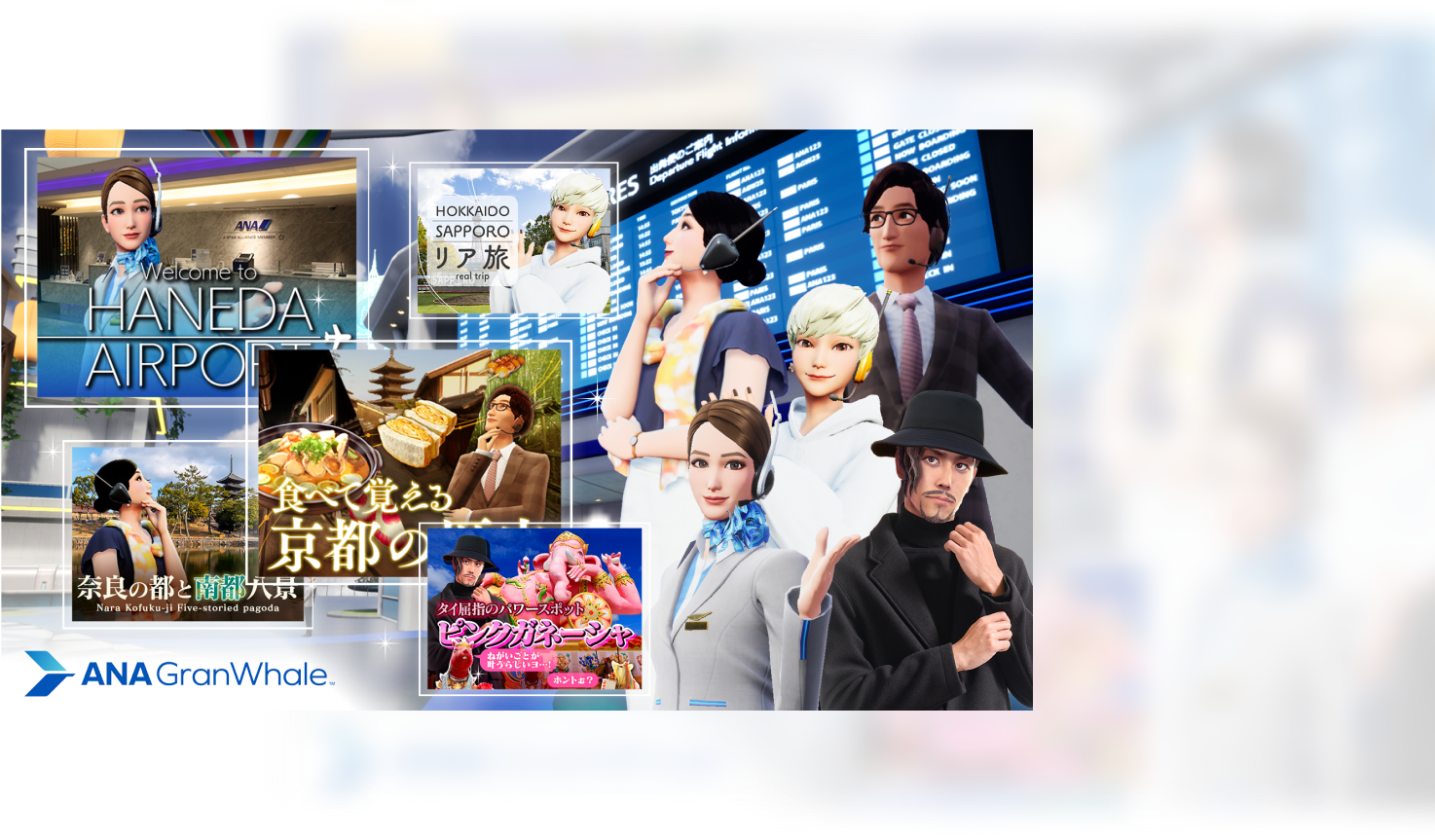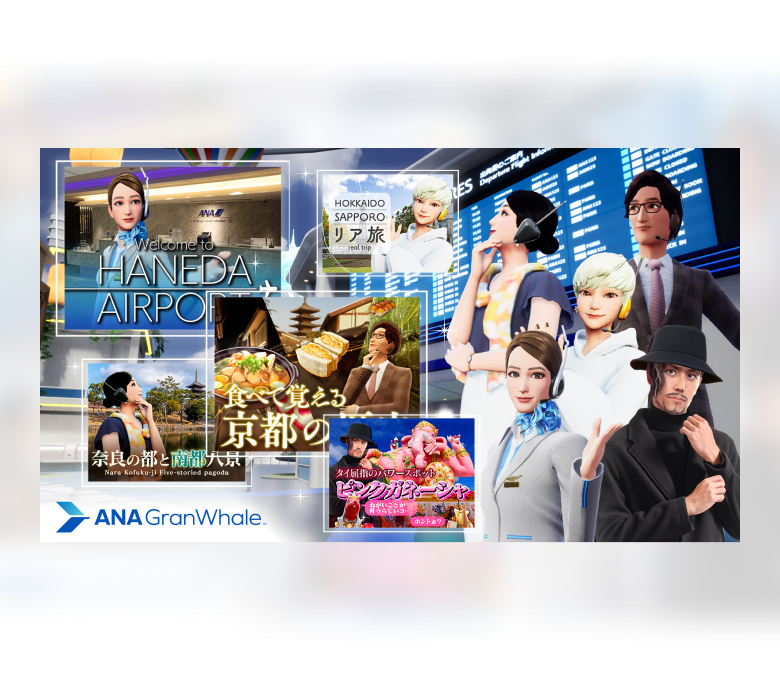 Travel around the world with anyone you like, anytime Virtually.
Travelers can choose between "V-TRIP" and "Premium V-TRIP", which can travel to different places around the world.
Don't miss the historical buildings and panoramic views! We also offer countless seasonal events and other contents to guarantee you in having a great time!
Things to do on V-TRIP
Let's go to
the "V-TRIP" counter!

Let's experience the ANA GranWhale's top choice: the V-TRIP!
You can depart from the "V-TRIP Counter" to embark on the "V-TRIP".
When you land at the Sky Lobby entrance, you can immediately find the V-TRIP counter on your right.

Let's go to
the tourist spots!

In addition to well-known sightseeing spots, "ANA GranWhale" will have other recommended marvelous locations for you to check out.
Choose your favorite guide and set off on your V-TRIP.
Our charming guides will take you on a V-TRIP and further entertain you with the history and trivia of each destination.

Enjoy various places around the world that transcend the boundaries of season and time.

Take a picture!

Use the camera function to capture your travel memories and keep it in your album!
Everyone in the group can wear matching clothes, strike the same pose, and more.
Show us your best picture on our social media.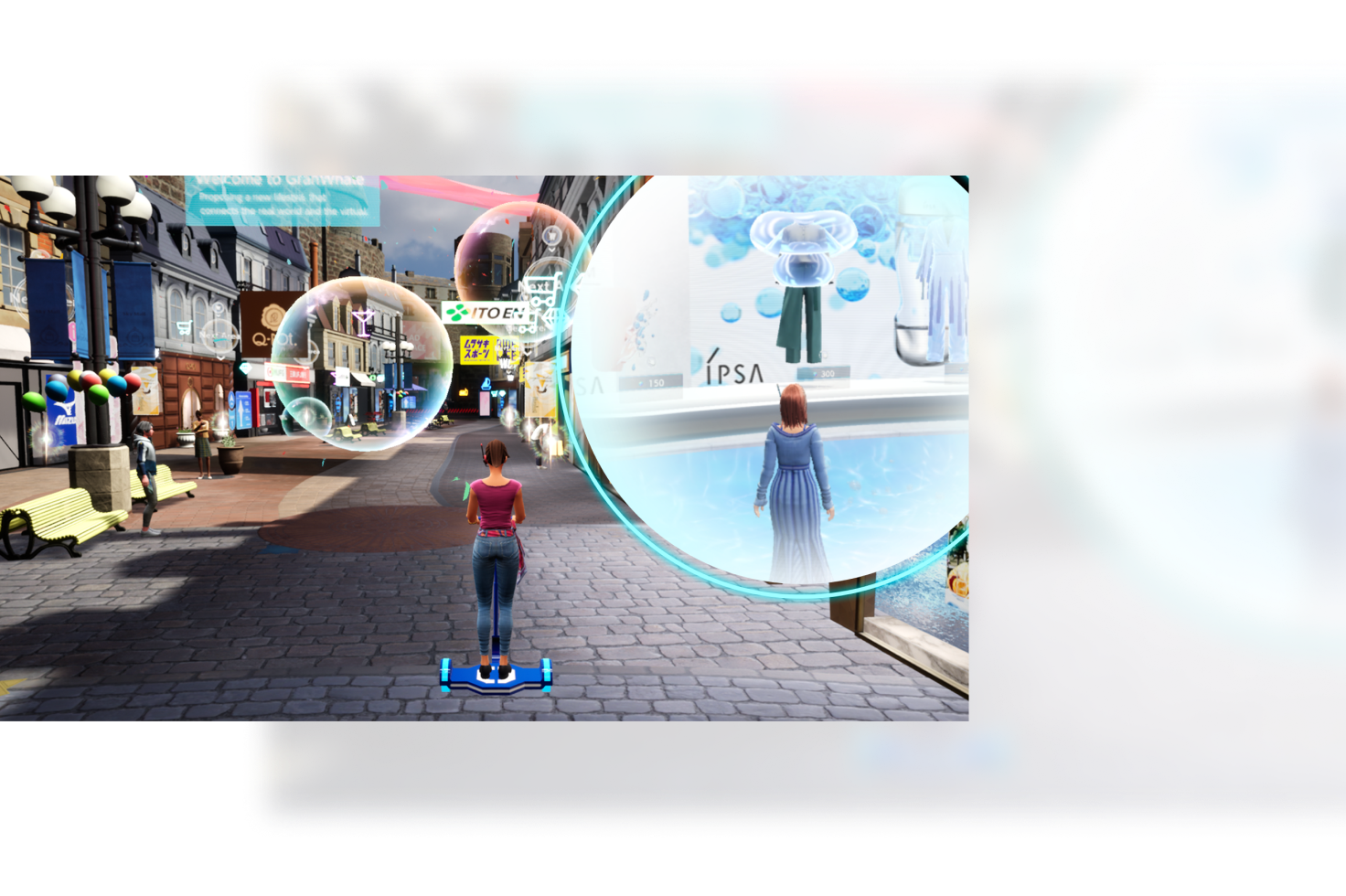 By intergrating reality and the virtual world, this brings travellers an extraordinary experience in shopping at the mall.
Stroll around and enjoy shopping with your friends inside the "Sky Mall".
Feel free to talk to the staff of your favorite store and discover new items.
There are unique stores that you cannot find elsewhere, and also access to exclusive products and contents.
Amazing events and promotions will be held one after another! Let's enjoy!
Things to do at Sky Mall
Let's go to "Sky Mall"!

You can go to the Sky Mall from the "Air Plate" which is located on the left of the "V-TRIP" counter in the Sky Lobby.

Let's go to
your favorite store!

Each store in "Sky Mall" is designed based on its brand image.
Feel the extraordinary ambiance as you visit your favorite store.

Real and virtual
shopping!

In "Sky Mall", you can purchase not only digital items that can be used in "ANA GranWhale", but also real products from the web store.
Enjoy both virtual and real shopping experiences.
Grand Open!
"ANA GranWhale MarketPlace" managed
by ANA NEO
You can easily purchase NFTs with a credit card even without a digital wallet.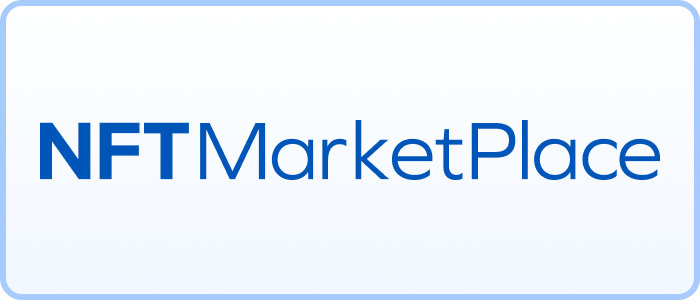 Genre

Virtual Travel

Supported OS

iOS / Android

Price

Free for basic play (with in-app purchases)

Design, development, and management

ANA NEO

Areas of service

Taiwan, Hong Kong, Thailand, the Philippines, and Malaysia
Apple and the Apple logo are trademarks of Apple Inc., registered in the U.S. and other countries and regions.
Google Play, and the Google Play logo are trademarks of Google LLC.
Some devices are not supported.